United in life as well as in their business, Manon Choquette and François Huneault founded Zanimo in 1999 based on common values and vision. Twenty years later, the flame is still burning and Zanimo now has 36 products divided into different lines. All these supplements and care products have one thing in common: they aim to improve the health, beauty and well-being of your dog or cat. 
Their story began in 1998, when Manon and François became Mira foster parents for a little blonde ball of fur, a female Labrador named Ruby. The Mira Foundation is an organization that provides guide dogs and assistance dogs to people living with disabilities. The role of the foster families is to help the future guide or service dog in its socialization process, until it reaches about 14 months of age.  
Although Manon and François were seduced by Rubis from the very beginning, they quickly realized that she was losing a lot of hair. In order to find a solution, Manon turned to the synergy of plants. Indeed, as a phytotherapist by profession, she was already working in the field of herbal care. She concocted a chewable recipe that Ruby loved. It consisted of a calf's liver base, with vitamins, minerals and prebiotics. In less than three weeks, Ruby's hair loss was reduced by 80%. Even better, her hair was now softer and shinier. Without knowing it, Manon had created a recipe that would make pet owners happy, with an evocative name, O'Poil, that made people smile!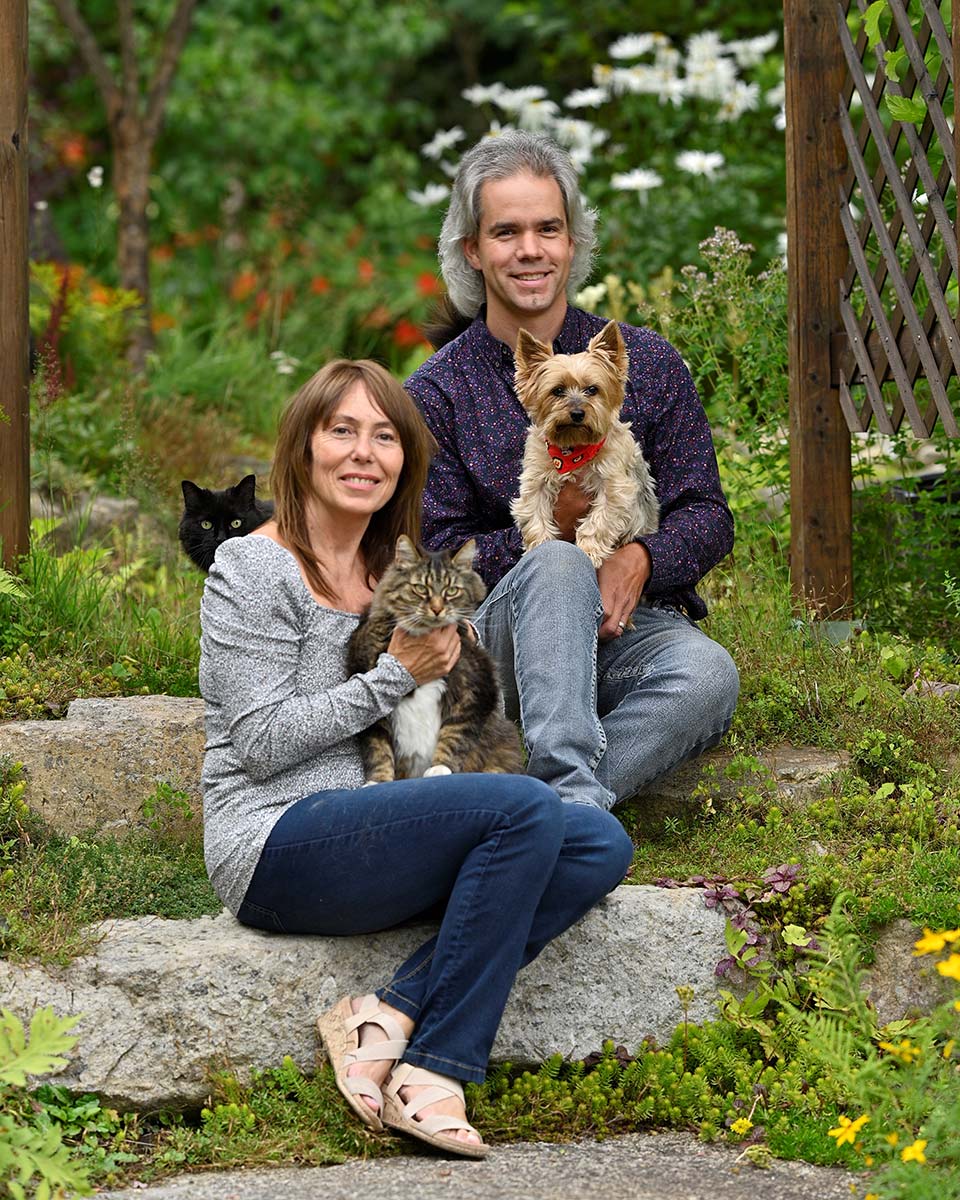 A few months after Ruby returned to Mira to complete her training as a guide dog, Manon was back in school and finishing her training in computer graphics. "For several years now, I had expressed the wish to one day found a business related to animal care. My training in computer graphics allowed me to create the labels, flyers and advertising material, thus reducing the start-up costs," explains Manon.
 
The recipe worked so well with Rubis and the animals around her that Manon realized it could be marketed. She contacted a chemist to help her make the product.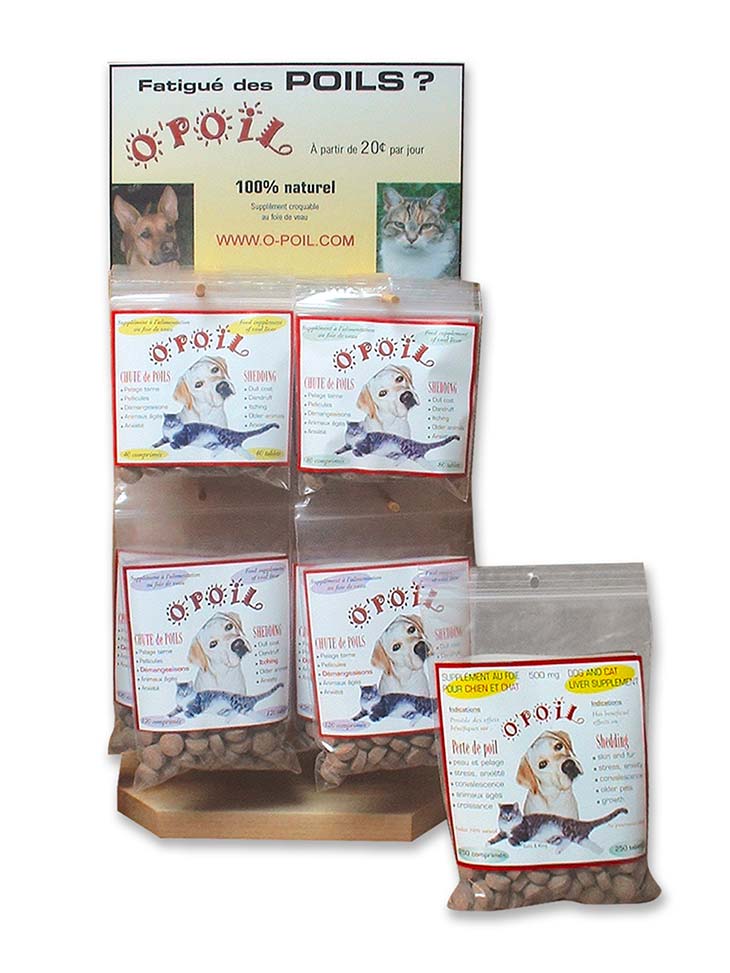 Manon and François had an avant-garde product that did not exist on the market and they believed in their young company. "Artists at heart, with a head full of ideas and a heart of gold, we chose to become entrepreneurs, without experience, but with passion. We couldn't wait for consumers to discover the O'Poil formula, because hair loss is a very common problem that bothers many pet owners." 
Their initial strategy was to target pet stores in their area: from store to store, they would present their introductory kit, which contained six packets of 40 tablets, on a beautiful wooden display designed and created by François. The retailers we met were delighted to see that such a product could exist. Most of the time, they came out with an order. O'Poil was very well received and in less than two months, they already had about thirty retailers. Based on this success, they doubled the kit to twelve bags and the stores were asking for more. 
However, the real breakthrough came on January 21, 2001... or more precisely the next day. A well-known journalist from the Journal de Montréal decided to publish an article on the O'Poil product. It was at that moment that the Zanimo wave broke. "The Mondou chain of pet specialty stores placed an order for its 35 stores at the time. The buyer told us it was the first time a product was in such demand. We weren't prepared for that kind of success, but we were happy to have achieved it. Despite the order overload, we rolled up our sleeves and worked hard to deliver quickly.
 
The story was a real eye-opener, and the phones were ringing off the hook. Retailers wanted O'Poil. François and Manon went from 65 to 150 retailers in one week. No need to go to the stores anymore, because they came to them. "The high demand for this product forced us, like any start-up, to ask for financing. We needed to increase inventory for new orders and supply our regular retailers, as well as cash to support the receivables. So without further ado, we made an appointment with our account manager."
Since Zanimo was a pioneer in the market, there were no comparable products. The challenge was to create a business plan and most importantly, to convince the banker of the benefits of this miracle product, which was not easy. The first financing request was refused. Manon and François then turned to the local development center (SBDC) of the region. They presented their project to them, and once again, it was not selected. After revising their business plan, Zanimo finally received a positive response from the SBDC to take on the project. "We had a dream and nothing on the road to entrepreneurship was going to stand in our way," laughs Manon and François. Indeed, the SBDC had determined that the O'Poil product met a real need in the pet market. "We decided to change the name of the product and renamed it Chute de poils, which better describes it," says François. This funding allowed them to triple their inventory, support growth and hire staff.
For several years, Manon and François wore all the hats of the business: decision making, customer service, office clerks, accounting, inventory management, order preparation, delivery, sales, etc. In the end, it paid off, as François puts it: "The company reaps what the entrepreneurs sow."


"Over the past 21 years, we have experienced success and honors, but sometimes also defeats and discouragement. Fortunately, we always had that flame burning inside. We never gave up. Zanimo made us live every day all the colors of the entrepreneurial life and we finally succeeded in realizing our dream", explain Manon and François.  

Today, Zanimo has become the best-selling and most popular brand of animal supplements in Quebec because of the diversity and remarkable results of its products. Owners, breeders, groomers, educators and animal health professionals choose Zanimo to pamper and improve the quality of life of these small and large animals we love so much.  
 
They count to date 36 products divided into 7 ranges, which are proposed in several practical formats. They are distributed in more than 450 points of sale in Quebec. Manon and François have chosen to give the exclusivity of their products to specialized pet stores rather than to big box stores. Why do they do this? Buying locally is eco-responsible, more equitable and encourages local businesses. These are values they hold dear.