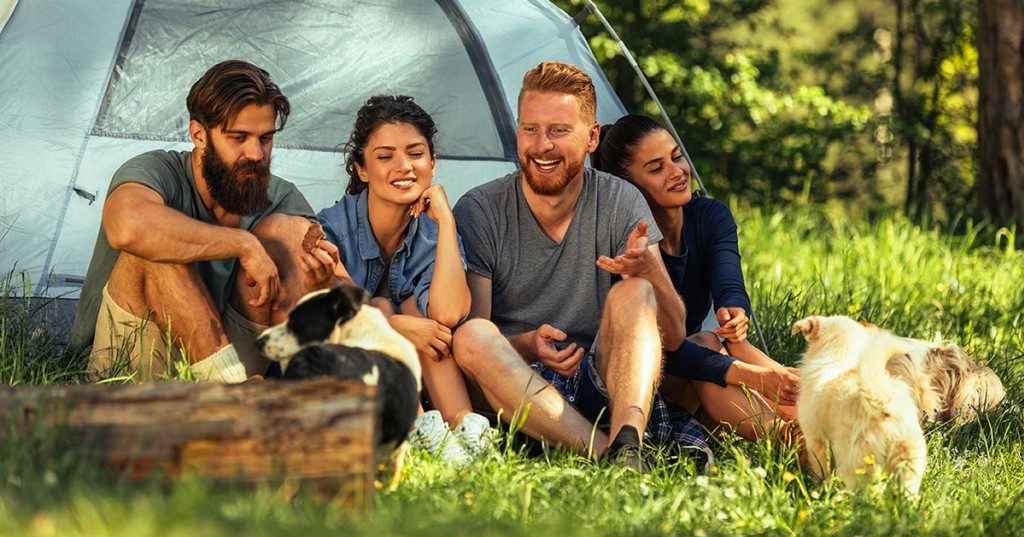 Camping vacations with our pet
Going camping with your pet can be a great way to enjoy your vacation with your four-legged friend by your side. However, it's important to prepare properly and choose suitable destinations to ensure the well-being of our four-legged friend. Here are a few tips and suggestions for a successful camping trip with our pet.
It's essential to take certain precautions to ensure the health and safety of your cat or dog. Here are some general tips:
1. Identification collar: our pet should always wear a collar with a tag or label containing our full contact details, including our telephone number. If he gets lost, this will help us find him.
2. Food: we need to make sure we store enough food for our pet in insulated containers to keep them fresh and clean during the trip.
3. Leash and harness: it's important to bring a leash and harness for your dog or cat, to keep them under control and close to you when necessary.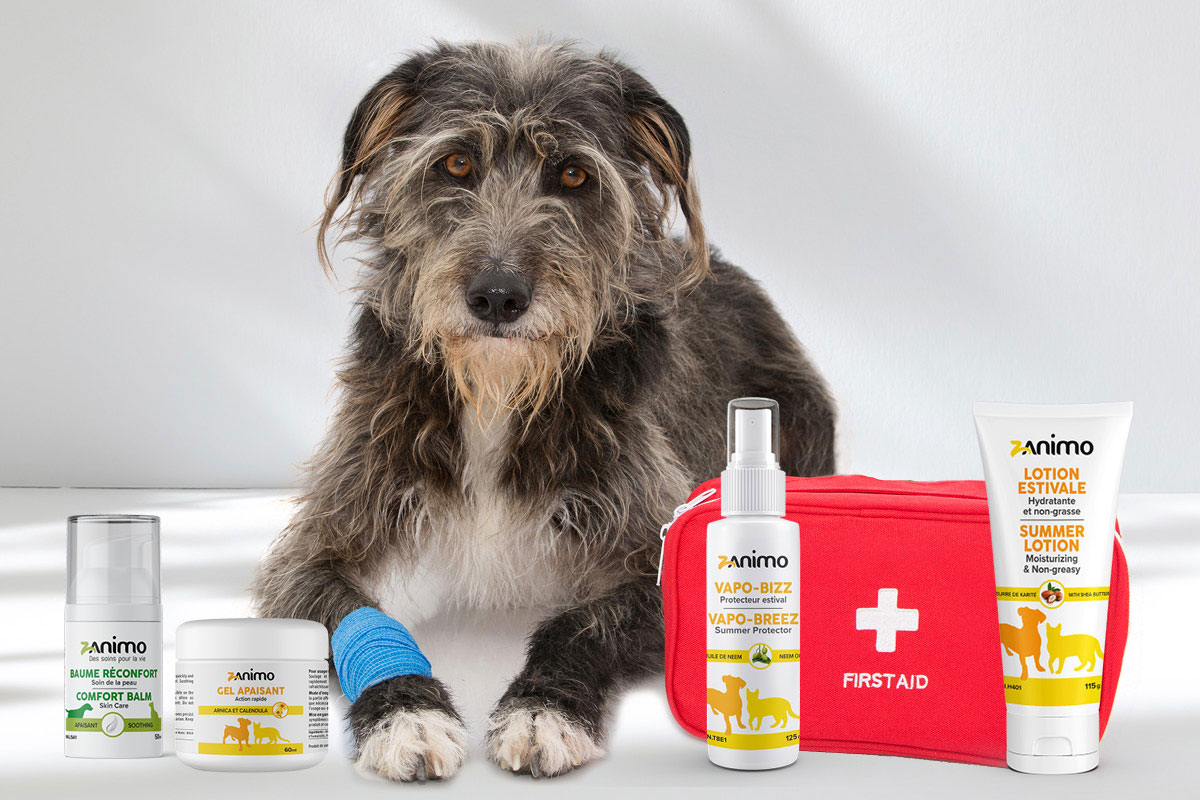 4. First-aid kit: very useful for various problems such as cuts, sprains, broken claws, bites and insect bites. To help with some of these problems, I recommend the following products: 
SOOTHING GEL by Zanimo which reduces allergic reactions to insect bites. 
VAPO-BIZZ by Zanimo, a summertime protector for skin and coat. 
COMFORT BALM by Zanimo, relieves irritation and soothes redness (scratches, minor skin wounds).
SUMMER LOTION by Zanimo for sunny days. Protects sensitive areas: muzzle, ears and sparse coat.
It's also important to take into account whether or not your pet enjoys travelling, as it could suffer from motion sickness. It's also advisable to carry out pre-trip tests by making short car journeys several weeks in advance. This will enable us to gauge our pet's reaction and detect any possible motion sickness problems, such as excessive salivation or vomiting (see To the rescue of our pets' motion sickness!). During the car journey, it's important to take regular breaks, at least every three hours, to allow our pet to stretch its legs, drink and perform its natural needs.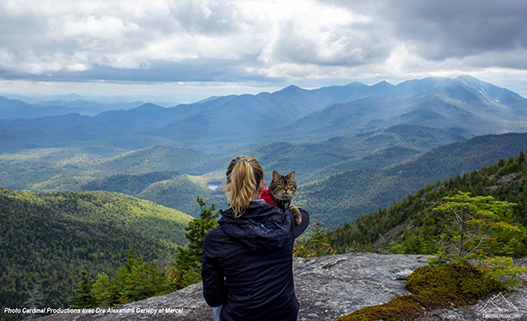 Let's plan a visit to our vet about four to six weeks before the trip. Our vet can make sure our pet's vaccinations are up to date, and implant a microchip in case he gets lost during the trip. What's more, our vet can advise us on the anti-parasite treatments recommended for the region we plan to visit with our companion. It's also a good idea to have our dog's vaccination record handy, in case he needs to see a vet during the trip.
Other items to pack for camping with our pet include collapsible nylon bowls, a brush and comb, a raincoat, a carry bag for easy travel, a blanket and his favorite pillow. Also, to respect the camping environment, don't forget toys, cat litter and dog poop bags.
We recommend securing our dog in the vehicle with an appropriate safety harness, and transporting our cat in a large cage (with litter and water) designed for this purpose, taking care that it does not block the driver's view or interfere with driving the vehicle. Everyone's safety is paramount when traveling. 
Once all the preparations are complete, we need to familiarize ourselves with the rules of conduct specific to the campsites we plan to visit. Each campsite may have its own rules, but it's important to adopt civic and respectful behavior towards other campers and their pets. The main general rules of conduct include:
Keep your pet under surveillance at all times.
Keep your four-legged friend on a leash, except in specifically designated areas where dogs may be let loose, for example.
Avoid excessive vocalization, so as not to disturb other campers.
Pick up our pets' excrement and dispose of it in the garbage cans provided, to keep the site clean.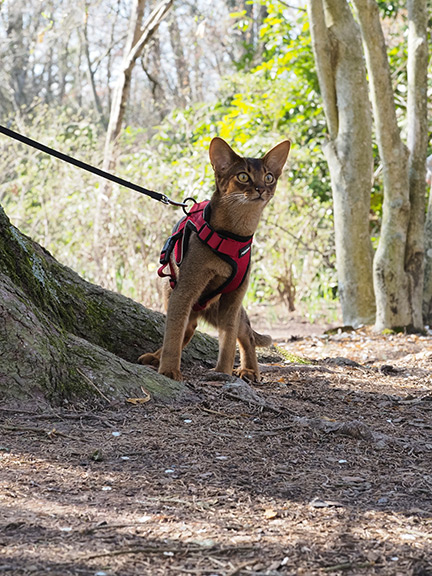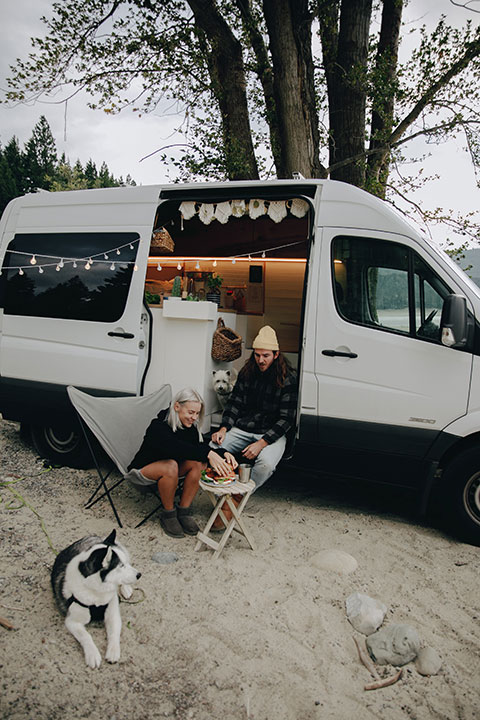 To make our choice of camping destinations easier, here are 10 of the most beautiful places in Quebec where we can take our dog.
1. Parc des Appalaches, considered a true natural gem, lies at the heart of a mountain range in the MRC de Montmagny in the Chaudière-Appalaches region. More than 150 campsites and many other types of accommodation are available.
2. Camping des Voltigeurs is a huge nature reserve on the banks of the Saint-François River near Drummondville in the Drummond RCM of the Centre-du-Québec region.
3. Camping La Bannik  is located in Duhamel-Ouest in the Témiscamingue RCM, and offers a wide range of services and breathtaking scenery!  
4. Kan-A-Mouche Lodge is camped at Lac Carmel, 5 km from Saint-Michel-des-Saints, in northern Lanaudière's land of lakes and fish. 
5. Frontenac National Park is located on the outskirts of Grand lac Saint-François, the 3rd largest lake south of the St. Lawrence River. Frontenac National Park is an incredible wildlife haven!
6. Parc national de la Jacques-Cartier is home to one of Quebec's most beautiful glacial valleys, the spectacular Jacques-Cartier Valley, just 30 minutes from Quebec City.
7. Domaine de l'Ange-Gardien, offers the tranquility of the countryside just minutes from Ottawa's tourist attractions.
8. Centre touristique du Lac-Kénogami located in the Haut-Saguenay region, is a huge lake with 136 islands and a sandy beach. 
9. Camping et Ranch du Fjord at the mouth of the Saguenay River, has something for everyone, with several sites offering breathtaking views of the river and marvellous sunsets. 
10. Camping Baie de Gaspé : at the center of Forillon National Park's attractions, Camping Baie de Gaspé is the ideal place for campers wishing to enjoy the activities of Forillon National Park and the fine sandy beach of Cap-aux-Os. 
The "camper's Christmas" can present the same dangers for our pets as the traditional holiday season (read Pets, gifts and the holidays, three things that don't go well together!).

Here are some of the potential risks:

1. Dangerous foods: for example, chocolate, raisins, onions, garlic, macadamia nuts and sweetened products containing the sweetener xylitol (chewing gum) can be dangerous for dogs and cats. Cooked poultry bones can also break and cause serious digestive problems.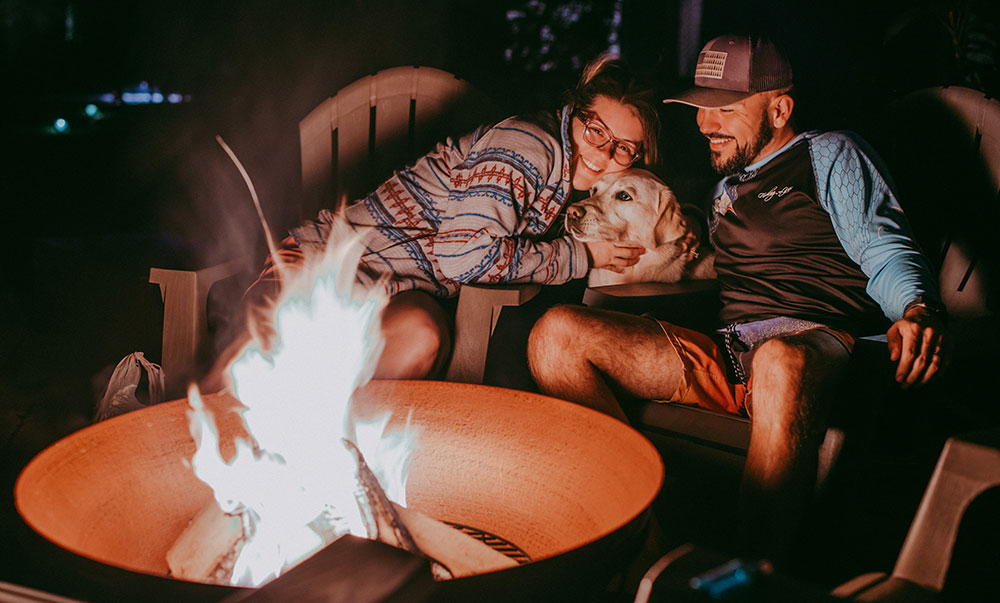 2. Christmas decorations: Festive decorations can be attractive to pets, but they can also present risks. Tinsel, ribbons and string can be swallowed, leading to potentially fatal intestinal obstructions. Glass Christmas ornaments can break and injure pets' paws or mouths. Lit candles can be knocked over, causing burns.
3. Poisonous plants: Some plants popular during the Christmas season, such as holly, mistletoe and poinsettias, can be toxic to pets if eaten. So it's important to keep these plants out of their reach.
4. Stress and overstimulation: Family gatherings, fireworks, music, loud noises and the hustle and bustle associated with parties can cause stress and anxiety in pets. Some pets may react negatively by becoming restless, hiding or even exhibiting aggressive behavior.
5. Domestic accidents: With the excitement of the festivities, it's possible for pets to get stuck outside, escape or become victims of domestic accidents. It's essential to keep them safe and supervised at all times.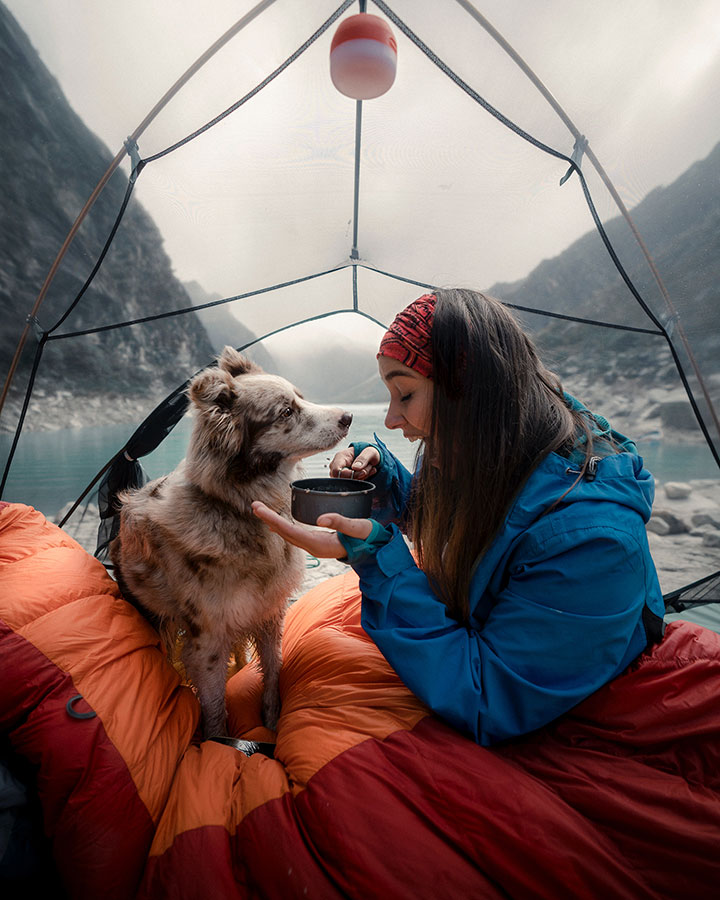 With the right preparation, camping with your pet is a perfectly feasible option. So make the most of the coming summer to discover new regions in our wonderful province, accompanied, of course, by your best furry friend!